Solent Airport Daedalus operates a fully maintained and resurfaced asphalt-runway, 05/23, which is available for use all year round. The airport, with close proximity to the sea, creates a picturesque approach to 05 as well as an easy join into the visual circuit.
Airport Opening Hours
The airport Summer opening hours are 09h00's -18h00's (local). For Winter 09h00's – SS (local). Christmas Day, Boxing Day and New Year Day the airport is closed. Airport extensions during daylight hours are available, in advance, on request.
| | |
| --- | --- |
| GPS Information | ARP: 50° 48'53" N 001° 12'20" W |
| Airport Elevation | +32ft AMSL |
| Radio Service | 118.925MHz Lee Information |
| Fire Category | Cat A2 |
| AIP Links: | |
Solent Airport Daedalus is situated within class G airspace, aircraft may fly when and where they like, subject to a set of simple rules. Although there is no legal requirement to do so, many pilots notify the air traffic service (ATS) of their presence and intentions, especially if entering the aerodrome traffic zone, and pilots take full responsibility for their own safety, although they can ask for help.
Due to the level of ATS offered by Solent Airport Daedalus we can only supply pilots in class G with basic flight information service to support their safe flying and not instructions.
Temporary Operating Instructions
Joining Information
Aircraft should remain outside of Fleetlands ATZ unless in good two-way communication with Fleetlands Information. Fleetlands ATZ is located 1.5nm north east of the airport. Aircraft are to remain clear unless in good two-way communications with Fleetlands Information on Freq 135.70. It is suggested that the base leg for Rwy 23 and outbound left turn off Rwy 05 is kept to no further north than the solar farm which is situated 0.6NM north of the airfield.
Information for Pilots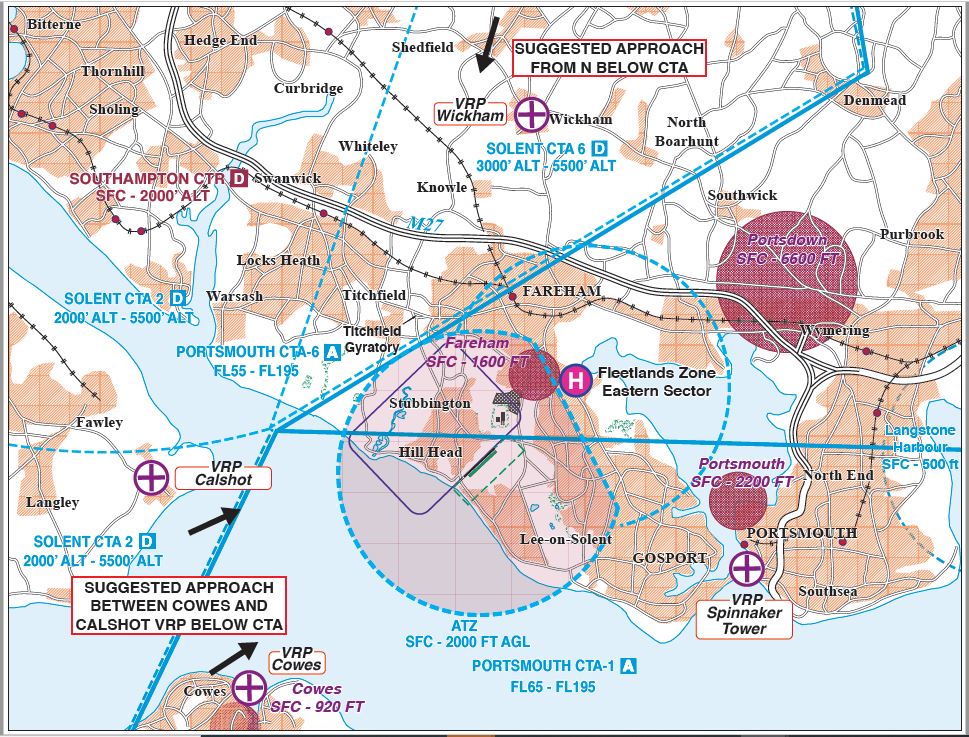 Arrival from the North
Standard join is to remain west and outside Fleetlands ATZ:
Downwind for RWY05 or right base for RWY23.
Aircraft arriving from the north are suggested to join via either West Meon crossroads VRP or Wickham VRP. Be aware that Fleetlands ATZ is located 2 miles south of Wickham VRP – frequency 135.700. For noise abatement after Wickham VRP head for the Titchfield Gyratory (marked on map above) maintaining clear of built up areas – for right base join, remaining south of the housing head for the south of the copse.
Arrival from the South, West and East
Aircraft arriving from the south, west and east are suggested to join via Spinnaker VRP, Calshot VRP or Cowes VRP. Be aware that Calshot VRP is located underneath Solent CTA which extends 2000ft – 5500ft AMSL.
Standard join is:
Left base for RWY05 or
Downwind for RWY23.
Straight-in approaches and overhead joins are subject to circuit traffic and AFISO workload. Standard joins are preferred.
SQUAWK 4306 WHEN ON 118.925MHz – LEE INFORMATION
Noise Sensitive Areas
Due to the close proximity of residential areas it is essential for the airport to operate in a considerate manner. Please observe the noise sensitive areas as much as reasonably possible to help us maintain our good neighbourly relationship.
Please watch these videos for the correct circuit pattern to avoid overflying residential and noise sensitive areas.
Runway 23 Circuit Video
Runway 05 Circuit Video
Thanks to our resident flying school, Phoenix Aviation for kindly flying the circuit and providing the commentary.
Circuit Pattern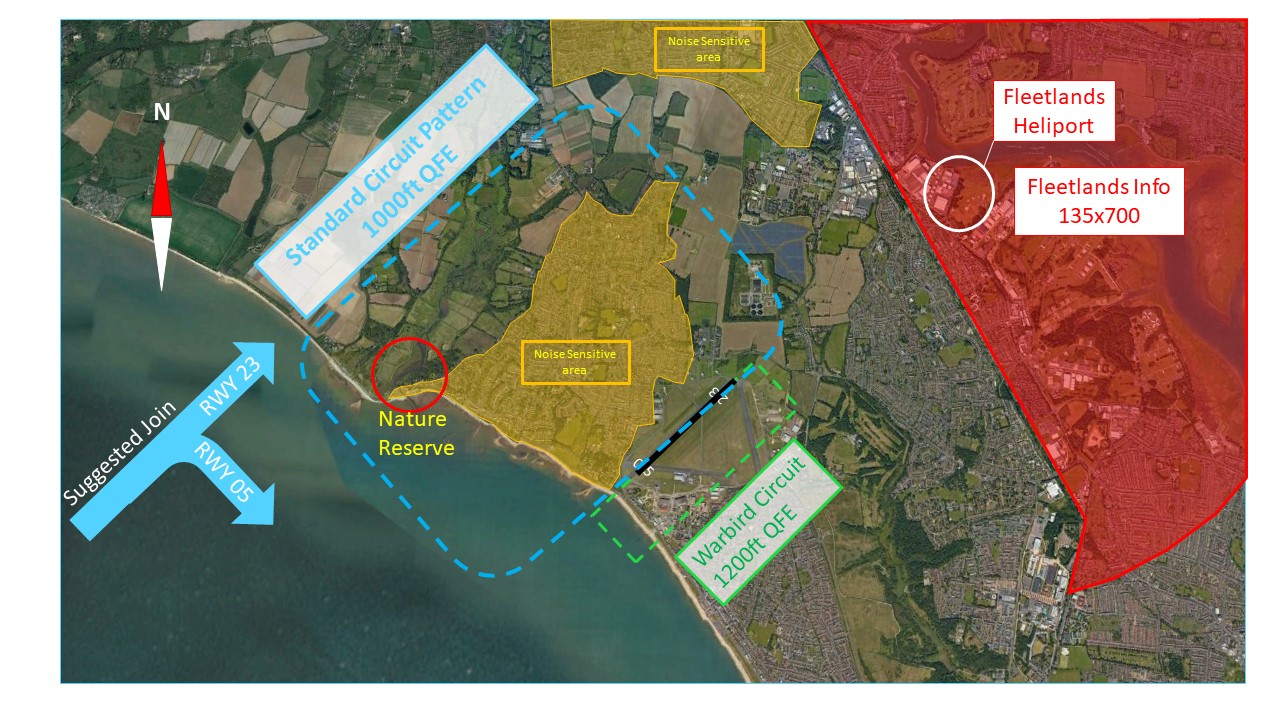 All circuits are to the north of the runway. Warbird circuits to the south of the runway.
Runway 05 – left hand circuit
Runway 23 – right hand circuit
No practice EFATO's off runway 05
Go arounds are to be made in good time and to the deadside of the runway. Please be aware of the warbird circuit when active.
Stubbington village is immediately to the west of the airport and the north western adjoining boundary with Fareham is a noise sensitive area. These are highlighted yellow on the image above,
Departure
Engine power checks are to be conducted at: RWY 05 – south side of B2 hold or RWY 23 – north side of the E1 taxiway.
RWY 05 – Fleetlands ATZ is to be avoided and pilots are advised to remain to the west of the disused railway line in order to remain
outside, unless two-way contact is made prior to entry on 135.700 MHz.
RWY 23 – early turns are to be avoided until over the Solent for noise abatement.
Parking
On grassed parking areas, it is the pilot's responsibility to ensure that the ground is suitable to taxi over.
Control Tower grass parking is between the blue tipped cones.
Pilots should keep a good lookout when taxiing and aircraft on the grass should give way to aircraft on the hard-standing.
Airport Contact Details
| | | |
| --- | --- | --- |
| General Aviation and PPR | Corporate and Charter Flights | Finance Department |
| Telephone: 01329 82 4748 | Telephone: 01329 82 4748 | Telephone: 01329 82 4751 |
| Email: ops@solentairport.co.uk | Email: corporate@solentairport.co.uk | Email: finance@solentairport.co.uk |
| PPR Application | Please contact the Ops department prior to arrival to discuss your handling requirements | Fees and Charges in seperate tab |
Out of hours agreement and prior permission (PPR) application also mandatory
Flying to and from the UK
Border Force Approval
Flights to/from EU Member States, Isle of Man & Channel Islands approved – Approval # CA119/15.
Inbound from the EU – GAR required – min four hours in advance of estimated arrival time.
Inbound/Outbound Channel Islands – GAR required – min 12 hours in advance of estimated arrival/departure time.
General Aviation Report (GAR) forms should be submitted:
online via the AOPA website: www.aopa.co.uk or
emailed to HMRC NCU at ncu@hmrc.gsi.gov.uk or
faxed to HMRC NCU on 0870 240 3738 (+44 1708 862521 from overseas
Important Notes
Flights not meeting the minimum notice period will need prior approval from Border Force.
Travellers from Non-EU member states, Channel Islands and Isle of Man are subject to the requirements of the EU Cash declaration scheme governed by EC Regulation 889/2005
A Customs C9011 form must be completed if carrying a value of €10,000 or more, or the equivalent in other currencies. Further details about taking cash in and out of the UK .
Suspicious activity, acts of terrorism or criminal behaviour are supported by Project Pegasus which is a Hampshire Constabulary initiative and should be reported in all circumstances either using the details on the link or via phone calling the Police on 101.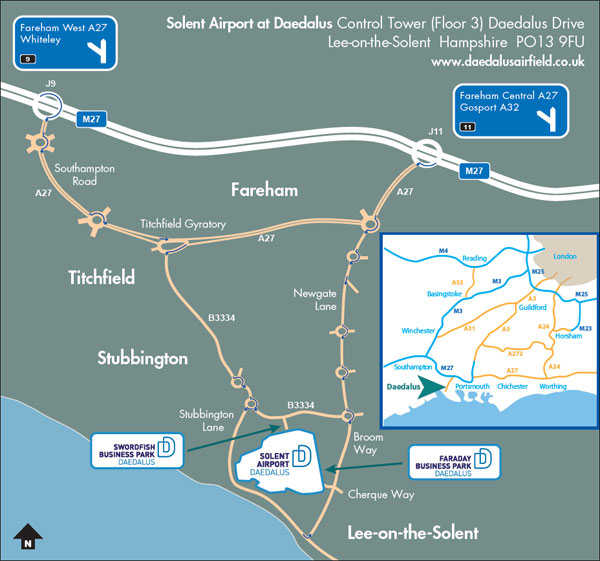 Daedalus Drive
Whether it is a flying visit or you are visiting on foot, the newly built road provides a link between Solent Airport Daedalus and the seafront.
As a visiting pilot, the road will take you to the seafront, and within a 10 minute walk you will find yourself in the centre of Lee-On-The-Solent.
If you would like to visit Solent Airport Daedalus as a pedestrian, you will find the access off Stubbington Lane, opposite Crofton Avenue. After a short walk along Daedalus Drive, the control tower and its facilities are located on the left.
The road does not give access for vehicles to the seafront.