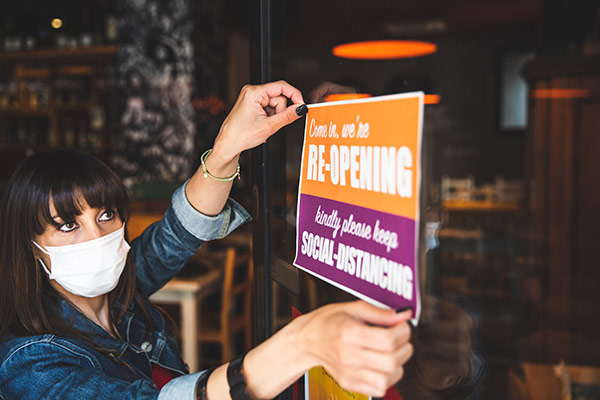 Posted On
Following a steep increase in COVID-19 cases across the region and numbers continuing to remain high, Fareham Borough Council is urging local businesses to ensure that they are fully adhering to the current national lockdown guidance.
Only essential retail businesses are permitted to stay open. Full details can be found at www.gov.uk/coronavirus.
For businesses which have been forced to close during lockdown or due to restrictions imposed during the tier system, there are a wide range of grants available to help and business owners can find all the information by going to www.fareham.gov.uk/coronavirus/businesses.aspx. If further assistance is required, please e-mail brgrants@fareham.gov.uk or call 01329 824651.
For those businesses that can stay open, it is essential to have an up to date risk assessment which includes details on how the premises are maintaining COVID secure measures. The Environmental Health team at Fareham Borough Council is on hand for business owners who need help or advice by calling 023 9254 5609 or e-mailing regulatory@fareham.gov.uk. They can provide signage and guidance on a range of subjects including social distancing and hygiene measures to enable businesses to operate safely.
The Environmental Health Team will also be carrying out spot checks on retailers across the Borough from corner shops to large supermarkets to check their COVID secure measures are fit for purpose. Focus will be on ensuring there is an adequate queuing system at entries and at checkouts; that measures are in place to support social distancing, such as floor markings and that people not wearing masks are challenged. Enforcement action will be taken if serious breaches of the COVID regulations are found.
If you have concerns that your employer is not following the safety measures to protect staff, or you think the businesses should not be open, please contact the Fareham Borough Council Environmental Health Team.
Fareham Borough Council is also working closely with the police who are responsible for making sure members of the public are following the rules. If you see a serious breach of coronavirus rules, such as a large gathering, you can report it to Hampshire Police.
Executive Member for Health and Public Protection, Cllr Trevor Cartwright said: "The national lockdown measures have been put in place for everyone's protection. One in three people who have the virus have no symptoms, so these measures will not only prevent the spread of the virus and protect the vulnerable, but prevent our NHS from being overrun and ultimately save lives.
"I cannot stress the importance of adhering to the national guidelines enough and urge business owners to take advantage of the grants and assistance which have been put in place for their benefit. The only way we will be able to get through this is by working together and following the rules."
Back To News